Needle Pinch Valves
Flow-Rite needle pinch valves are an inexpensive and long-lasting replacement for existing fluid delivery systems.  Traditional valves are designed to come in contact with the fluid being restricted, causing deterioration.  Fluid contact with the Flow-Rite valve has been eliminated; therefore, it will not erode over time.  With no fluid contact, the valve can be used, reused and disposed without fear of contamination.
Pricey ball valves and brass fittings are a hassle to install with the necessary cutting, fitting, and disposal of existing tubing. The Flow-Rite valve is designed for an effortless installation.  No fittings, cutting or removal of existing tubing required.  Just slide on the bottom half and meter with the top.  The valve meters from zero to full flow, allowing for optimal usage and fine adjustment.  The 1mm divided metered scale on the valve body enables calibration to be recorded and replicated.  This differs greatly from the guesswork associated with flow control alternatives.
The valves are manufactured from acetal resin for strength and durability.  Intended for various soft wall tubing sizes, the valves fit an outside diameter (OD) from 4.0mm to 13.0mm or 5/32" to 1/2".  Various applications include medical devices, fluid delivery systems, food and beverage, analytical instrumentation, chemical processing, pneumatic systems, pharmaceuticals, and laboratory equipment.  Like all Flow-Rite products, needle pinch valves are made in the USA.
Protected under U.S. Patent
Features
Fluid contact with valve eliminated.
Meters fluid flow from zero to full flow.
Designed for fine adjustment of fluid flow.
Easy to read metered scale (1mm division) on valve body.
Fits tube O.D. sizes from 4.0mm to 13.0mm or 5/32″ to 1/2″ O.D.
Each valve fits a range of tube sizes.
No fittings, cutting or removal of existing tubing required to install valves.
Ideal for usage with soft wall tubing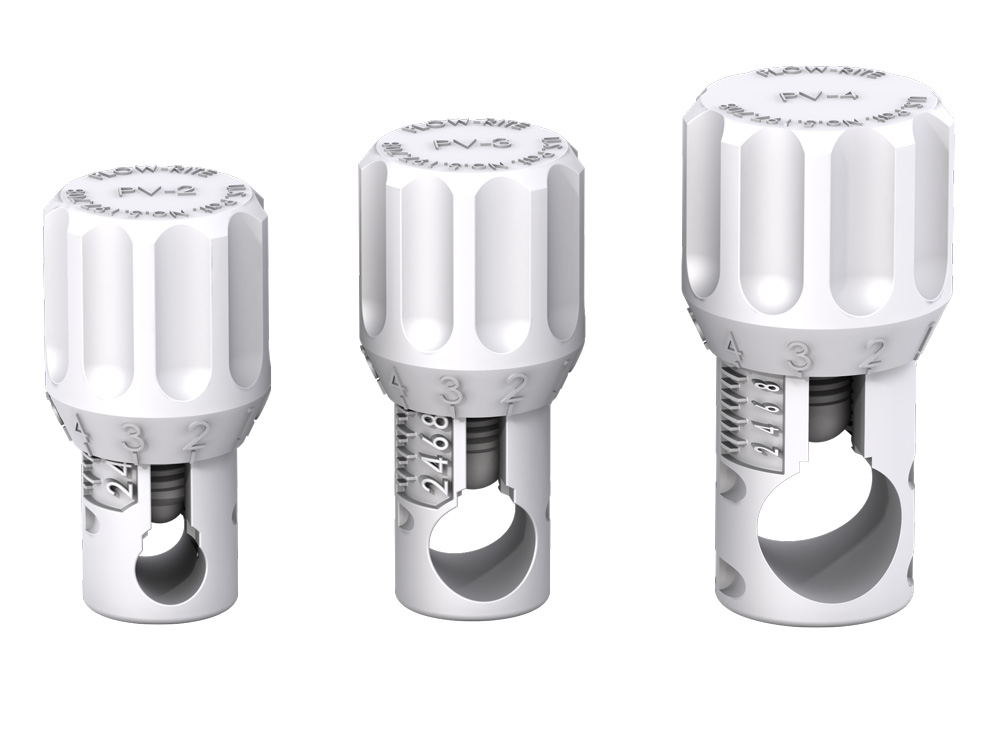 Applications
Medical
Pharmaceutical
Food & Beverage
Chemical Processing
Laboratory Equipment
Analytical Instrumentation
Fluid Delivery Systems
Pneumatic Systems