INTRODUCING
THE MARINE PLUMBING MANIFOLD
Our goal is to provide quality parts while creating a safer, more reliable environment for boaters. The marine manifold simplifies your boat design while granting engineers more freedom to customize for specific needs.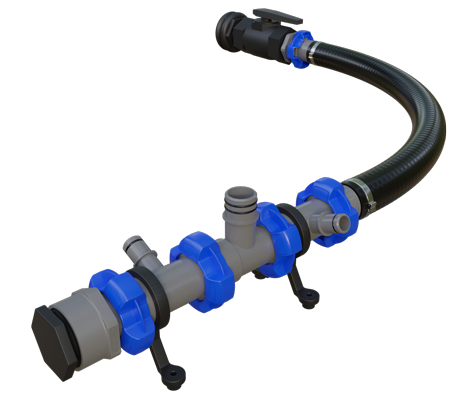 Manifold Benefits
Our Qwik-Lok® Plumbing Manifold enables builders to:
• Streamline plumbing processes
• Non-corrosive in Fresh & Salt Water applications
• Empower boat builders with end-to-end solutions REDUCE OVERHEAD, ENHANCE SAFETY
When paired with our marine hose, our Qwik-Lok® fittings reduce the cost of labor and material waste, all while increasing the quality of the build.
• Engineers can design a better, safer boat
• Production can decrease cycle time installing plumbing
• Scrap material will drastically decrease with our custom-tailored kitting options
• Less thru-hulls = More aesthetically pleasing boat for your customers
SEAMLESS INTEGRATION, BUILT-TO-SPEC
Our team is dedicated to making transitions to Qwik-Lok painless. Our team will come to your facility and assist in the creation of custom-tailored kits to make ordering as easy as installing.
IMPROVE AESTHETICS & PERFORMANCE
The custom T Qwik-Lok fitting, allows for endless possibilities. Connect multiple different drainage outlets to the manifold that will drain through your transom. The manifold eliminates excess thru-hulls in your boat design, creating a safer & sleeker boat.
Ready To Get Started?
Our Sales & Engineer Teams Are Excited To Work With You!