Lead Battery - #1 Recycled Product in the U.S.
We are thrilled to learn about the recent research study commissioned by BCI and prepared by Vault Consulting revealing that the United States recycles an astounding 99% of all lead-acid batteries. This sustained achievement is indeed significant for the planet as it showcases the nation's commitment to environmental responsibility and sustainable practices. Recycling lead-acid batteries at such a high rate helps in reducing hazardous waste, conserving valuable resources, and minimizing the environmental impact. By responsibly managing the lifecycle of batteries, we contribute significantly to a cleaner and healthier planet for current and future generations.
We hope to see further application of the Lead Battery as it holds much promise for a greener future over the alternatives.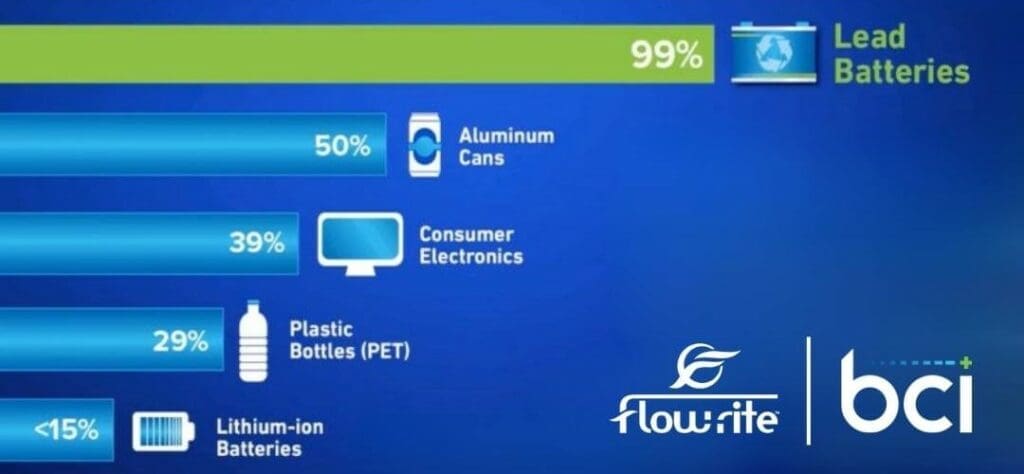 Maximizing Lifespan and Performance of Your Lead-Acid Battery with Flow-Rite
Even with the remarkable 99% recycle rate, it's essential to emphasize that proper battery maintenance can further enhance the longevity and efficiency of lead-acid batteries. Flow-Rite Battery Watering systems play a crucial role in maximizing the performance of batteries. Our innovative solutions ensure precise watering, preventing underfilling or overfilling, which can lead to reduced battery life and efficiency. By maintaining the correct water levels, businesses and individuals can optimize their battery systems, ensuring they operate at their peak performance for a longer duration. This not only saves costs in the long run but also minimizes the need for premature battery replacements, reducing overall environmental impact.
At Flow-Rite Controls, we remain dedicated to promoting sustainable practices and supporting businesses in their efforts to be environmentally responsible. By combining the exceptional recycling rate of lead-acid batteries with our advanced Battery Watering systems, we can collectively make a significant positive impact on the environment, contributing to a greener and more sustainable future.